About Monrovia Dental Care
A Clean
&

Safe Practice

We go above and beyond the American Dental Association (ADA) and OSHA recommended standards for cleanliness and safety. Before your visit, we disinfect all of our equipment using state-of-the-art sterilization technology. We also thoroughly sanitize each room between patients.
Same-Day Appointments
&

Dental Emergencies

We do our best to offer same-day appointments whenever possible, especially for dental emergencies. If you experience a dental emergency, call our office right away to schedule an appointment!
In-House Financing
&

Most Insurance Accepted

We've designed our practice to eliminate financial barriers and insure that all of our patients can afford the treatment they need when they need it. For more information about insurance and financing, visit our Payment and Scheduling page.

Back to Top ↑
Patient Amenities
We strive to make your dental visits as comfortable and convenient as possible, and we know that the difference is in the details. Here are just a few of the amenities that make Monrovia Dental Care a different kind of dental office:
Flatscreen TVs

All of our treatment rooms feature flatscreen TVs on the ceiling, so you can lay back and enjoy your favorite movie or TV show while we work.

Pillows & Blankets

We also have soft, cozy blankets and pillows to keep you warm and relaxed throughout your visit.

Warm Scented Towels

When your appointment is complete, freshen up with a warm scented towel.

Beverage Bar

Come early to enjoy a coffee, latte or bottled water at our complimentary beverage station.

Free WiFi

Catch up on your emails or surf the net. You'll never be out of the loop!
Back to Top ↑
Advanced Technology
In addition to making dentistry more efficient and interesting for us, advancements in dental technology also improve your experience as a patient. Whether they're saving you time, keeping you comfortable or giving you the smile of your dreams, our state-of-the-art amenities will completely change the way you think about going to the dentist.
Digital X-rays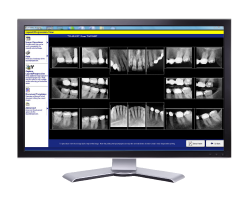 Digital x-rays are a fast and comfortable tool we use to assess your dental needs. With no chemical processing and significantly less radiation than conventional x-rays, digital x-rays are a smart choice for your smile and the environment.

X-rays are commonly used in dental exams of patients of all ages because many problems with the teeth and surrounding tissues cannot be seen by the naked eye. An x-ray is needed to reveal:
Small areas of decay between teeth or below existing restorations
Deep cavities
Infections in the jaw bones
Gum disease
Abscesses or cysts
Developmental abnormalities
Some types of tumors
Find out more about digital x-rays
Intraoral Camera
Like digital x-rays, digital photographs taken with our intraoral camera are a useful diagnostic and patient education tool. This camera shows you what we see during your exam and helps us guide you through your diagnosis and treatment options.
Isolite® System: Less Time, More Comfort!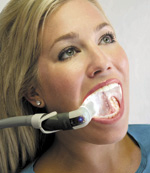 Our patients are enjoying more comfort and better care than ever with the Isolite® system. Isolite has a place to rest your jaw, a soft and flexible mouthpiece to better shield your tongue and cheek, and high quality illumination of your mouth, which reduces shadowing and makes treatment even more accurate. As an added benefit, Isolite eliminates the need for cotton rolls and rinse breaks. Come in and experience the difference!
Back to Top ↑